The Odéon Tower in Monaco was built 2009-2015 at Bd de Ténao in Monaco by the French Vinci Company on behalf of Monegasque princepals (sic) at a small plot of steep land, that borders also to some small houses and villas of Beausoleil, France, on the other side of the border where I live ... but not behind the Odéon Tower.
Today - December 2016 - it looks ... well ... big from route D51 - Bd Guynemer - 20 meters away at Beausoleil: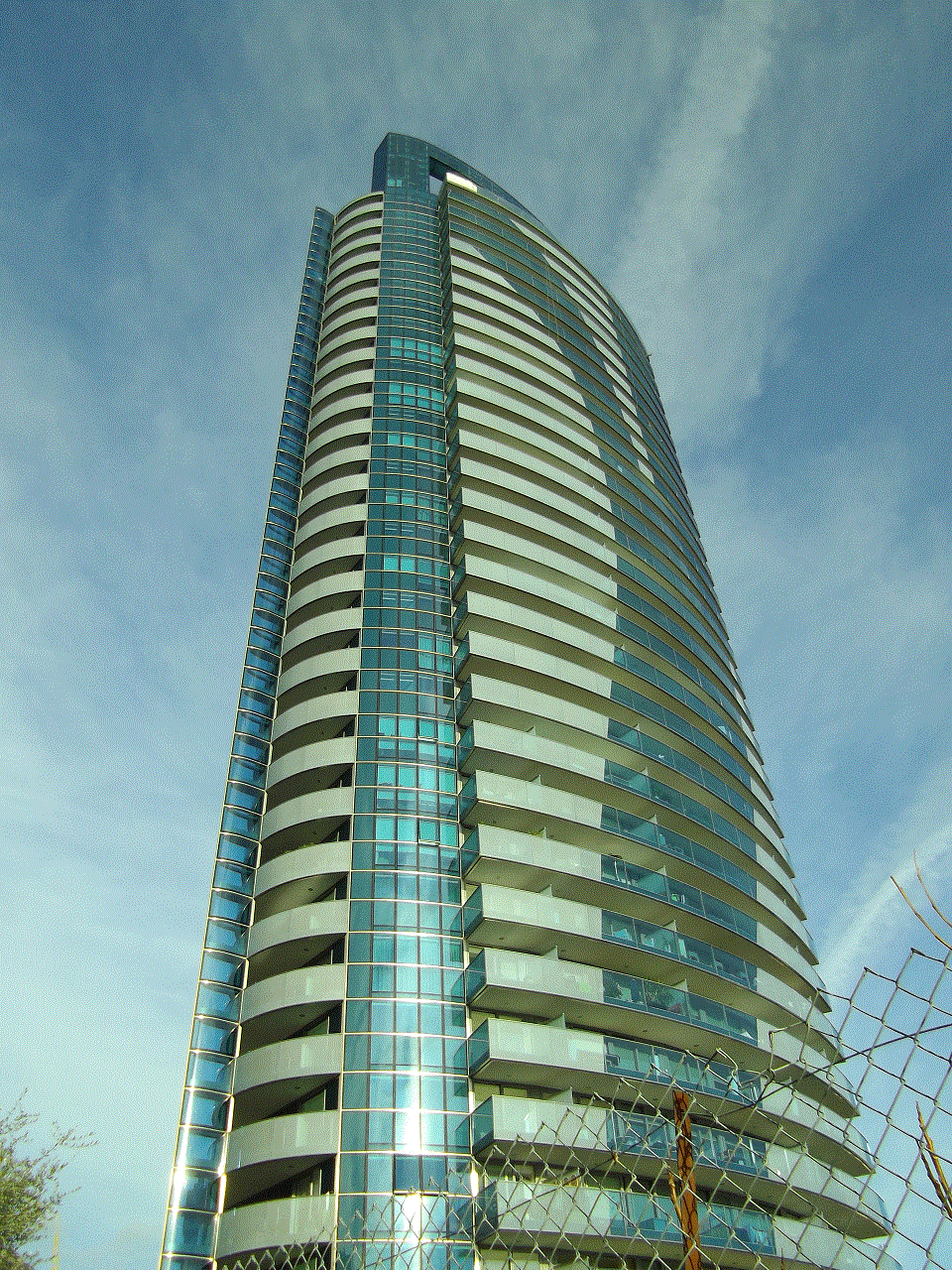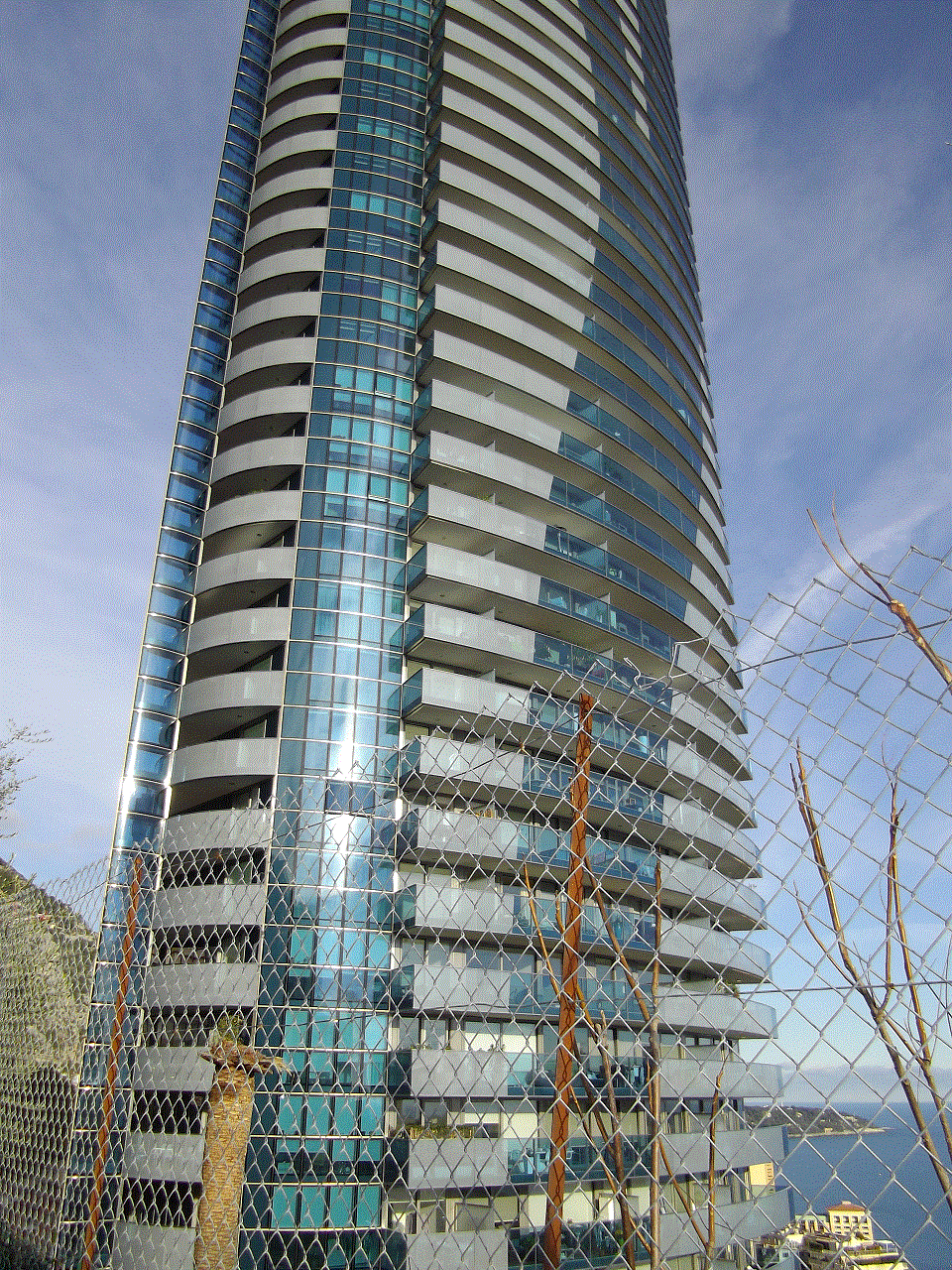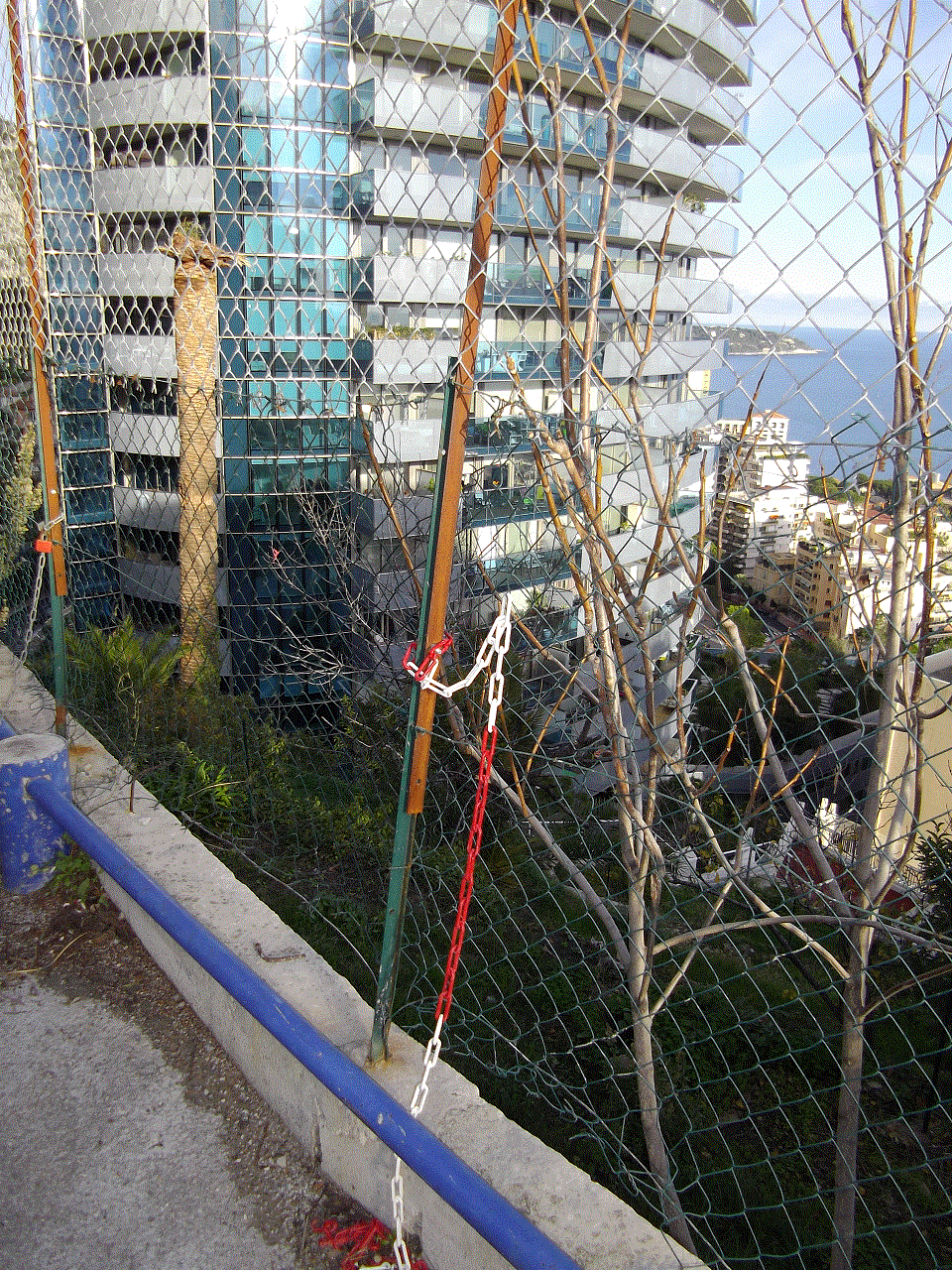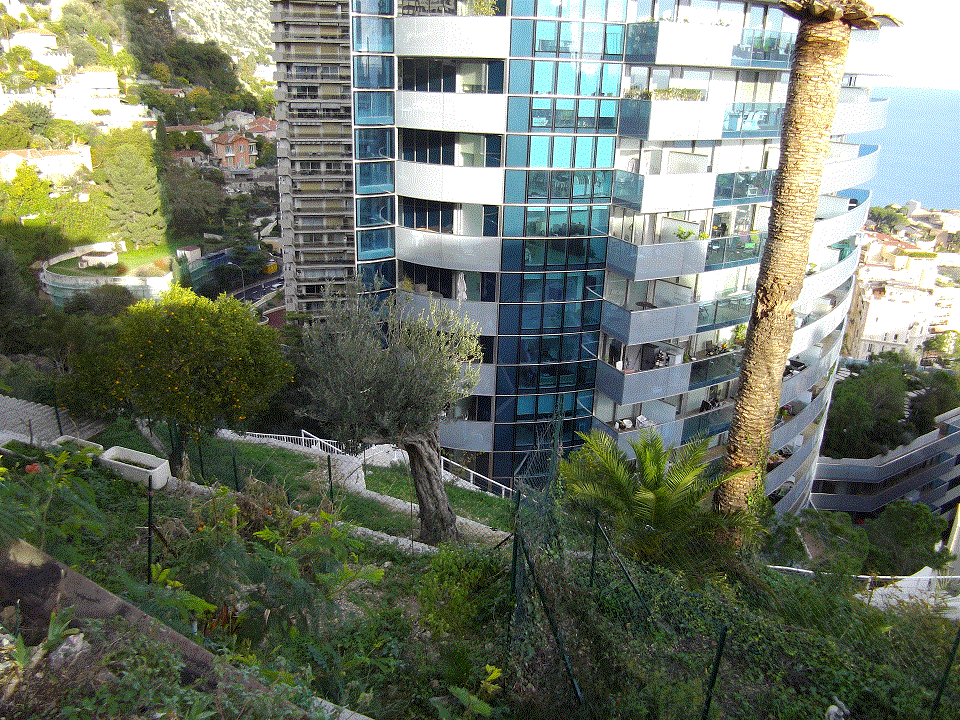 And from the other - Monaco - Bd de Ténao - side:
The Odéon Tower is maybe 49 stories high and 170 meters tall. Nobody really knows for well known, local Monegasque reasons. It can be taller. It is suggested that there are >400 flats and numerous offices in the Tower to house more than 3 000 people and >500 cars. Access to the Tower is only via Bd de Ténao at Beausoleil in France/Monaco or via 36 Av de Annonciade in Monaco and thus extremely bad. Access to the Tower via route D51 - Bd Guynemer - 20 meters away at Beausoleil is doubtful; it is abt 30 metres above Bd de Ténao; see Google map below!
The owners of the Tower own also adjacent, very small plots of land in France, FR, but no building will take place there. There are no building permits issued for the adjacent plots, FR, in Beausoleil. The FR plots will only be used to put equipment to build the tower and will then be turned into gardens or graveyards. Later, it may happen that unhappy inhabitants consider suicide and then jumps ... passing the border ... to land at Beausoleil.
There are six other tall, ugly towers in Monaco nearby built 20-30 years ago putting Beausoleil behind in the shadows. Many people at Beausoleil are unhappy about the Odéon tower destroying the local charm and reducing property values there. What to do with the ground in the shadow of the tower at Beausoleil? Build a garbage recycling plant? Or social housing, HLM? Or a go-cart race course?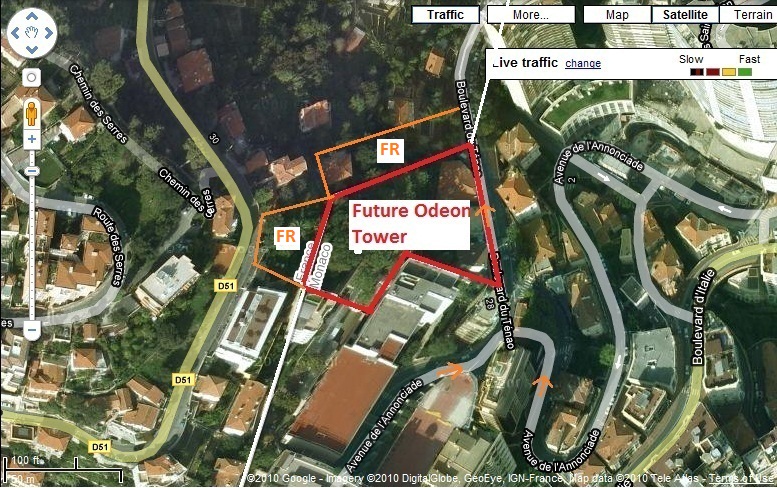 From the Bd de Ténao in Monaco/Beausoleil looking up the plot looked as seen below before construction started: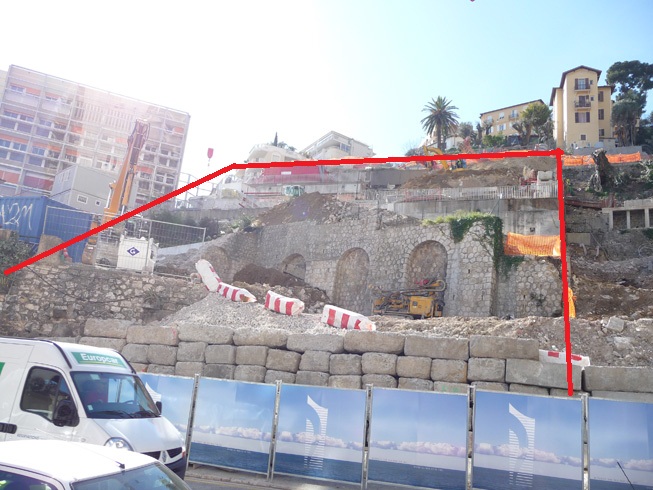 The little house seen up in right corner is located at Beausoleil. Also the palm tree at top centre. The building seen at left side is the Collége de Monaco. One house has been torn down on the French side on the right of the red line. No building permits of any kind have been approved by the mayor of Beausoleil for the land on the French side. The idea is to cut a big hole in the ground on the Monaco side only as foundation and garage for the Tower and only to build on the Monaco side. The French side will just support the tower. On 10 April 2011 the place looked like: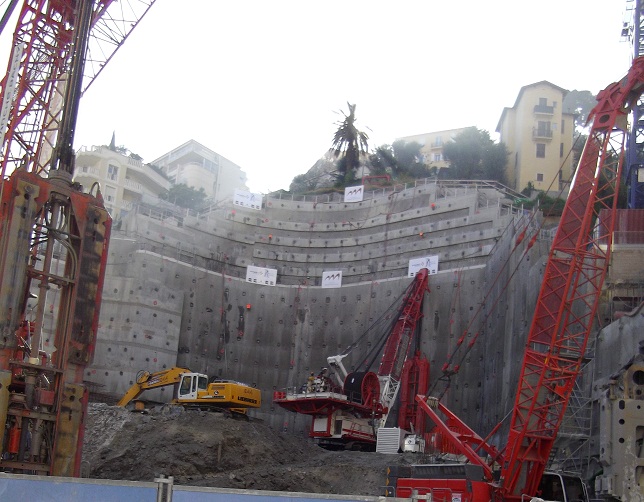 Plenty of Monegasque soil has been dug away. The impressive hole will go deeper down into the ground.
Looking down from Bd Guynemer at Beausoleil, from behind the palm tree, on the plot of the future Odéon tower in Monaco: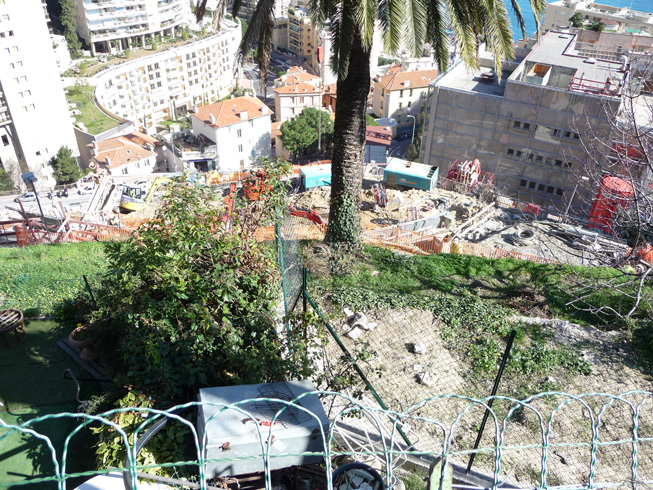 Looking from same location April 2, 2013, you see:
Bd Guynemer at Beausoleil is pretty narrow: Looking down;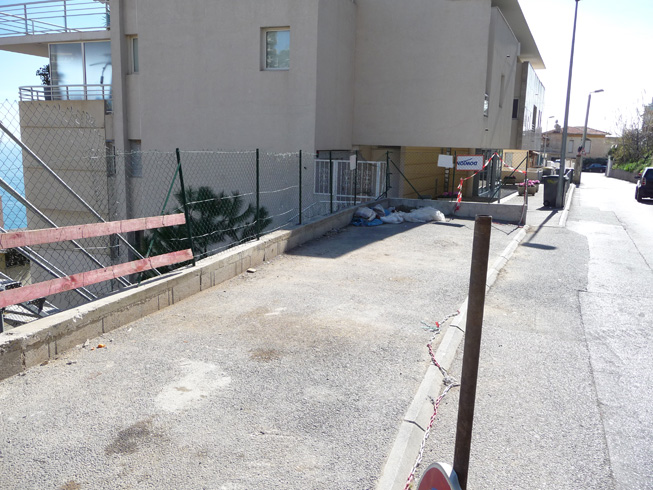 Looking up: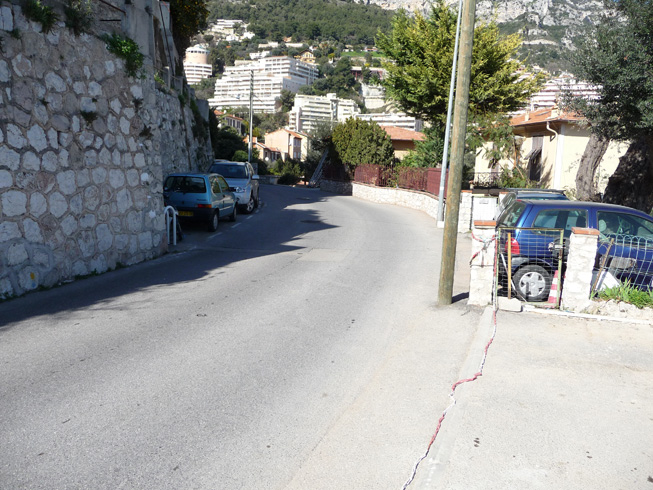 The mayor of Beausoleil, M. Gérard Spinelli, was taken into custody by French authorities on 24 November 2009 and jailed at Les Baumettes prison for more than two months. It was suggested that M. Spinelli had taken a bribe of €60 000:- (from Claudio and Paolo Marzocco, the promotors of the tower, via a Mr Lino Alberti) to facilitate the Odéon tower building just a few meters away from Beausoleil.
M. Spinelli has since been released from jail. Spinelli and Marzoccos deny the charges. The case and the tower building went on 2016! But there is no need to bribe anybody at Beausoleil to build the Tower in Monaco with a garden around the tower at Beausoleil. Just follow the rules and cooperate. It will be a nice, ugly tower, if due consideration is given to the peaceful environment around Bd Guynemer at Beausoleil that already has three other towers in view. You can say whatever you like, but it is fun to watch Monaco from Beausoleil. The case is still going on at some Tribunal at Marseille, November 2016. Spinelli still denies any charges. January 2017 the trial ended in a fiasco! All concerned parties were freed. But the prosecution has appealed. Thus the case will go on.
Back at 17 October 2012 the Odéon Tower at Monte Carlo was rising slowly. Only 40 more stories to go around the core. It is a single tower. The lower floors will have no view at all and are therefore reserved for local, poor, monegasque people. And all flats facing west and France will have a view of Beausoleil and some houses there and vice versa. The flats facing east will have a view of the sea. The flats facing south will have a view of the Palace on the Monaco Rocher.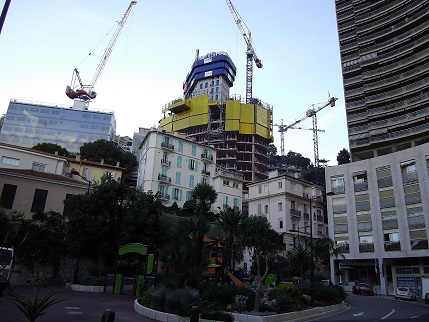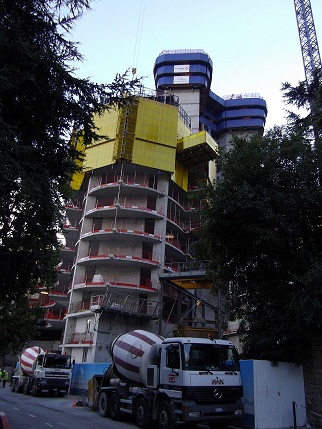 Only 40 stories to go. The core will be more than double in height. Maybe there will be 400+ new flats in this new, single Monaco tower.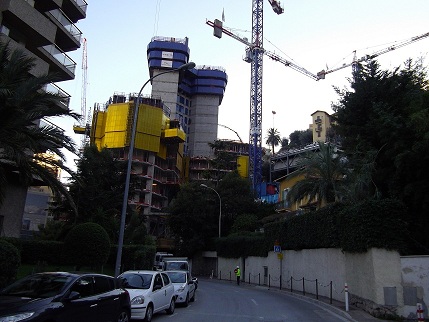 Here is what it looked like April 2, 2013.
The tower will have a nice view of the Beausoleil cemetary (1 June 2013)
And when it is ready, it will look something like this!
And do not worry ... you are quite safe up top because ... towers never collapse from top down.
Seen from West the tower looks like this 6 January 2013:
Personally I prefer to live at Beausoleil closer to the port of Monaco with a view of the sea:
No tower is blocking my view! I have luck, so far.
But here is a view of the tower blocking the view from the Moyenne Corniche road end March 2013, when 42 floors are erected:
The floors are pretty thin and supported by the core but, luckily, monegasque building codes follow French ones. Evidently some windows and guard rails will be fitted before occupancy takes place. The top floor pent house is on the market at a fantastic price. People at Beausoleil will easily see what is going on there.
So what will become of this tower? A white elephant? Who wants to live in a tower, where anybody can peek into your bedroom on the 49th floor from a big road and many small roads nearby?
2016 the Odeon Tower is externally completed and looks quite nice, but its seems they are still working to outfit the interior of the apartments at upper floors. Anyway, it does not bother me the least as I live at the other end of Beausoleil.
I am told that a 400 m² flat with 6 rooms on the 22nd floor of Odeon tower costs €28 000 000:- or €70 000:-/m². Nine floors higher up on the 31st floor you are supposed to pay €83 000:-/m². If they are outfitted is not known! Question remains, if anyone will pay such sums for a little (sic) flat with view of sea/palace at Monaco. Why not buy a yacht instead? Or some old or modern art? Or just forget the whole thing and have fun.
I am pretty certain that the Odeon tower - apart from the bottom part for poor Monegasques - will remain empty with nobody inside for ever. Why?
No sensible person/family will ever move into a 400 m² flat on the 31st floor - with 18 floors above you - just to live - with a view of the Mediterranean sea (or Beausoleil behind you). Monaco is such a small, sleepy place. Of course plenty people shuttle in each morning to work there, but in the afternoon they leave. The real action is actually at Beausoleil, where I live.
(first published 020310 by Heiwa Co - European Agency for Safety at Sea)