Most FPUs - Floating Production Units - are FPSOs - Floating Production Storage & Offloading units but you could also say that there is Fearfully Poor Safety Offshore!
An FPSO receives live crude from the sea floor, kills it in a topside production installation that sends the dead crude to storage tanks in the hull of the FPSO - the bottom side. Later the crude is offloaded to shuttle tankers at regular intervals.
Heiwa Co is interested in the access to and maintenance of the bottom and side structure of an FPSO hull - the cargo tanks. The FPSO is designed to spend 15-20 years offshore. It is generally based on seagoing oil tanker structure rule disregarding obvious differences. A better design may be a life buoy layout (right) that you can study here.

An oil tanker spends almost half its time empty of cargo and hydrocarbon in ballast and will regularly visit ports, shipyards and dry docks for repairs and maintenance. Oil storage tanks can be accessed and inspected when the ship is gas free and empty in a safe haven.

An FPSO is completely different. It is always loading and is never empty in a safe haven.

But the same Rules apply.

Heiwa Co has many years experience of inspection, maintenance and repairs of FPSOs offshore worldwide.
Accessing the cargo tanks in order to make a reliable survey and inspection and to allow maintenance is very important. The problem is simply that existing SOLAS rules are not clear enough to describe a simple, effective and reliable IG system to ensure, finally safe access into the tanks.
The SOLAS IG system may protect the tanks against fire, but if the deck pipe system is dangerous when you try to gas free the tank, then something is wrong.
There are many instances that leaking valves in approved IG systems prevent proper purging, may cause flammable gas leaks when gas freeing and do not ensure safety against gas leaks when inside the tank. The result is that unit staff spades all lines under a Permit to Work system just in order to get into the tank.
Heiwa Co proposes that the IG deck pipe system on an FPSO, that should become industry standard, shall look as follows:
There are evidently two main lines - one for IG supply and venting of the cargo tanks and one to be used to purge and gas free one cargo tank for access and inspection. Spectacle blank flanges are then located and arranged at the correct side of the shut off valves so that no flammable gases and/or IG can leak into a cargo tank being accessed and inspected. Spectacle flanges can be turned without flammable gas leaking out and shut off valves can be maintained to ensure that they are not leaking but you have to follow the procedures to do it.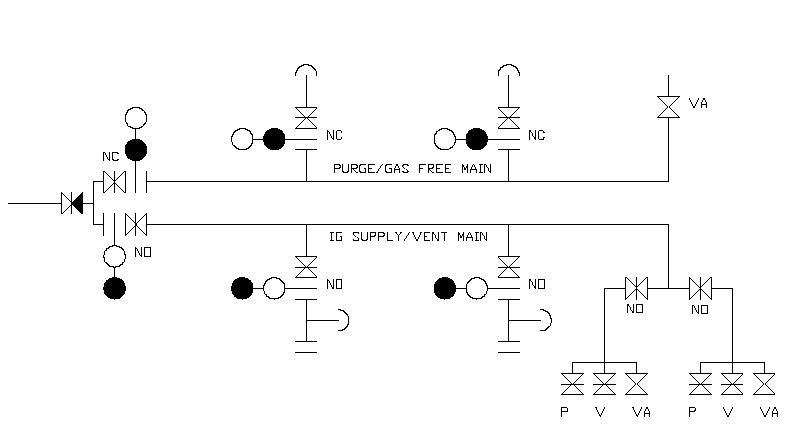 Full details are found in a paper given by Heiwa Co at the International Conference Design & Construction of Floating Production Units, 3 April 2007, Singapore. You can read it here!
Contact anders.bjorkman@wanadoo.fr